The heavens are telling of the glory of God;
And their expanse is declaring the work of His hands.
-Psalms 19:1
Welcome to

Ebenezer

Mar Thoma

Church

Service every Sunday at 9:30 AM
May 10, 2015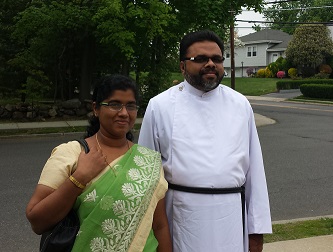 Rev.Sony Philip. Achen was born in 1974 to Mr TP Philip and Mrs.Kunjamma Philip, Thadethel house, Ranni. He graduated with a degree in Botany from St Thomas college Ranni. He received his B.D from Gurukulam Semminary,Chennai in 2003. His mother parish is Tabor Mar Thoma Church, Vaakathanam, Edamon. He has served parishes in Kunnamkulam, Kannur, Kottarakara-Neeleswaram, Vaalakam and Chattisghatt.
Kochamma, Asha Sony was born to Mrs.Aleyamma Chacko & the late Mr. V.M.Chacko.Vdekemannil, Kuriyanur.She is Msc, BEd. and served as a teacher at Bethany school, Prunadu prior to marrying Achen. Her mother parish is Kuriyannoor Mar Thoma Church.
May 1, 2015
We are proud to announce a new addition to our parish, Isaac Samuel John, born to Chris and Seba John on April 29th.
Apr 24, 2015
Mr.PM Thomas (Bava), Puthukkallil house, Punnavely, father of Else Kochamma - (wife of our former Vicar Rev.Johnson Varghese) left for our heavenly abode on Friday, April 24th. Please uphold the bereaved family in your prayers.
Apr 23, 2015
Mrs.Nena O.Tiukinhoy (93) grandmother of Mrs.Corimarie Jacob left for our heavenly abode on Monday, April 20th at Surigao City, Philippines. Please uphold the bereaved family in your prayers.
Apr 15, 2015
Mr.Koshy Abraham (90) father of Mr. Varghese C. Abraham left for our heavenly abode on Tuesday, April 14th 2015. Funeral will be on Friday April 16th. Please uphold the bereaved family in your prayers.
Mar 27, 2015
See below for our schedule for Holy Week:
Palm Sunday Service (3/29/15) - 9.30 AM
Evening Worship Service (3/30/15) - 7.00 PM
Holy Communion (3/31/15) - 7.00 PM
Evening Worship Service (4/1/15) - 7.00 PM
Evening Worship Service (4/2/15) - 7.00 PM
Good Friday Service (4/3/15) - 9.30 AM
Easter Sunday Service (4/5/15)- 8.00 AM
Mar 19, 2015
Lent Prayer scheduled for tomorrow March 20th is cancelled.
Mar 17, 2015
Lent Prayer scheduled for tomorrow March 18th at the residence of Jacob Abraham is canceled. We will have Lent Prayer at church on Thursday 19th March.
*This change is due to the sad demise of St . Andrews' member Mr.A.V.Thomas who left for heavenly abode on Tuesday morning and a prayer meeting is scheduled for tomorrow at St . Andrews church.Please remember the bereaved family in your prayers. *
Jun 1, 2015
Greetings in the name of our Lord and Saviour Jesus Christ,
The Mar Thoma Church is apostolic in origin, universal in nature, biblical in faith, evangelical in principle, ecumenical in outlook, oriental in worship, democratic in function and episcopal in character.
Our Church is part of the One, Holy, catholic and apostolic Church. The spiritual life our Church members is nurtured through worship, ministry of the Word and through administration of the sacraments. As a reformed and global Church our emphasis should be on living the Gospel through our life and witness. Our spirituality is nurtured through personal devotion and family worship. People are becoming more secular, technocratic and materialistic,so it is our great challenge to keep the people on the strong foundation of the Rock and keep them in Kingdom values.
On coming days as a parish we have many activities as per our program calendar- all programs are for the spiritual growth of our Church. I pray that these programs may be a medium to strengthen our faith and enrich our relationship in Christ. Let us submit ourselves for the Glory of The God. Let our prayer be like this: "Thy Kingdom come, Thy will be done on earth as it is in Heaven". May the great love of God build us together, the Grace of Christ strengthen us and the guidance of the Holy Spirit lead us now and for ever.
In Christ's ministry,
Sony Achen
Apr 2, 2015
DEARLY BELOVED IN CHRIST,
As the vicar of this parish this is my last message through The News Letter. I sincerely express our gratitude to all of you for your care, Prayer, advice, ideas, physical and mental support and also the gifts as you give us in the past days. This was my first outside Indian experience. I never expect to come over here, but this is God's purpose. I am unworthy in various ways, but God strengthened me all these days and also my ministry in the past. I thank the Almighty God for His manifold blessings showered upon us. We express thanks to our beloved Theodosius Thirumeni for all his guidance and support , Diocesan secretaries , office bearers and all the families who loved us and take care of us. Once again I whole heartedly express our love and gratitude which is not express only through words.
Relationships are fragile. Even positive relationships are easily subject to fracture. Handle them with care- Relationships are perishable, without steady and strong nourishment, they can wither and die. The relationship between you and your God is vulnerable too. Constant attention without distraction or obstruction is the natural requirement to sustain the life in love , under life's stress and new setbacks, the initial burst of pride can lose it luster. The booster forces that feed your dignity lose their energy too quickly. Your one essential relationship needs an unfailing power source to keep it pumping your self - esteem up through good and bad times.
Self - respect, positive self - regard, whole some self - esteem, healthy humble pride have short life -spans as did the manna from heaven that was given to the Israelites, on the move from Egypt to the promised land. It was sweet. It was nutritious , it was delicious. They couldn't get enough of it. So they tried to horde it, stash it away, and save it for a rainy day. But it soon spoiled.
RELAX - To quiet your mind and hear the inner voice.
RETREAT - To get a fresh perspective , on your life with its problems and possibilities.
REGROUP - Your spiritual resources, marshall their potentially creative power and focus on your God - inspired dreams again.
REGAIN - Your peace of mind. Let your spirit flow again in harmony with the eternal spirit.
REJOICE - Rejoice in the lord always. The existing happiness is from God.
We request to all of you to remember us occasionally in your prayers, we will pray for you. As we move to another parish at Naranganam near Kozhencherry , we whole heartedly welcomes you any time you are in Kerala. WE are going back to Kerala with lot of good memories and experience gained from you. " You shine as lights in the world, holding fast to the word of life , so that in the day of Christ I may proud that I did not run in vain or labor in vain. I am glad and rejoice with you all, Likewise you also should be glad and rejoice. The Grace of the Lord Jesus Christ be with you all dearly beloved.
JESUS CHRIST IS RISEN
MAY GOD BLESS YOU ALL
Lovingly, Sujan Achen
Please note my new contact information:
Naranganam St Thomas Mar Thoma Church, Naranganam
P.O Kozhencherry, Pathanamthitta 689642
Phone# 04682216202
Serene# 9446677824
Rev Sony Philip
President & Vicar
P: 914-207-0011

Jacob Abraham
Vice President
P: 914-912-4405 John Samuel
Secretary Jacob Varghese
Trustee Eapen Joseph
Accountant
P: 914-346-5756
Anish Titus
English Lay Ministrant Saji Thomas
Malayalam Lay Ministrant
P: 203-606-0986 Dr. Minnie John
Sunday School Superintendent
M.J.Varkey
Edavaka Mission Representative
P: 914-630-4202 Aleyamma John
Sevika Sangham Representative Anish George
Yuvajana Sakhyam Secretary Feby Varghese
Choir Leader
Jason John
Youth Fellowship Representative
P: 914-481-5440 Susan Kurian
Mandalam Member
P: 914-909-3838
C. S. Chacko
Diocesan (Assembly) Member
P: 914-473-3664 Jose Cherian
Executive Committee Member
Edavaka Mission
The spiritual renewal in the Church, which was the offspring of reformation has created a yearning in believers to present the Gospel to others. It was realized that this could not be fully achieved by the services of a few full time evangelists. On the other hand every member of the Church should be a missionary filled with such joy and assurance of salvation as to be Christ's witness to those who come into contact with him, irrespective of one's profession in secular life.Believers interested in evangelistic and intercessory activities used to assemble periodically for prayer and fellowship. It was in the annual meeting of such a gathering in 1924, the present Mar Thoma Voluntary Evangelists' Association was formed. Bishop Abraham Mar Thoma was the ardent supporter of this movement.The objective of this association is that every member of the Church should be a witness to Jesus Christ, whatever his or her occupation may be. Those who volunteer to be members of the Association meet together in each parish at least once a week for fellowship, intercessory prayer, Bible study and sharing experiences.The branch of the Mar Thoma Voluntary Evangelists Association in the Parish is called "Edavaka Mission".
Sevika Sangham
The women in the Mar Thoma church also shared the spiritual power generated by the Reformation. The Mar Thoma Suvisesha Sevika Sangham the women's wing, was inaugurated during the Maramon Convention in the year 1919, under the leadership of Abraham Mar Thoma Suffragan Metropolitan, who gave the Sangham continued support and inspiration. Every women of the Mar Thoma Church above the age of 18 years is a member of the Sevika Sangham. The Sevika Sangham has branches in all parishes of the Mar Thoma Church both in India and abroad. The Sevika Sangham at Ebenezer Mar Thoma Church is an extremely active and spirited group who play an extremely active role in the development and growth of our church.
Sunday School
In the Mar Thoma Church, Sunday Schools play a very significant role in the spiritual renewal and growth of young generation. The formal inauguration of the Sunday School Samajam took place at Maramon Convention in 1905. 'Come to Jesus and bring every child to Jesus' is the motto of our Sunday school. Since then the Sunday School organization has grown and changed but our motto still remains the same.Ebenezer Mar Thoma Church Sunday School is held every Sunday (with some exception) between September and June at 11:00am. It is comprised of an extremely dedicated team of teachers and an eager group of students who have led to its continued success year after year. Our students actively participate in Diocesan-led initiatives such as the National Diocesan Exam and VBS. In addition to bible study, our students also learn about church history and the growth of the Mar Thoma Church.
Youth Fellowship and Yuvagena Sakhyam
The Mar Thoma Yuvajana Sakhyam was organized with a view that all the young people in the Church should accept Jesus Christ as their Savior and Lord, and bear witness to His saving power. It was organized in 1933 by a resolution of the Sabha Prathinidhi Mandalam. Ebenezer Mar Thoma Church continues to honor this resolution with not only an active and thriving Yuvajana Sakhyam but also an extremely devoted Youth Fellowship group. Both groups work hand in hand to develop our youth as responsible young men and women who can face the challenges of life while upholding the faith and practices of the Mar Thoma Church and Christian values.
Parish Info
Address: 406 King St Port Chester, NY 10573
Phone: (914) 413-9550
Email: ebenezermtcny@outlook.com
Sunday Worship: 9:30 AM
Sunday School: 11:00 AM
Parish History
Ebenezer Mar Thoma Church, New York, established on 1987, Previously this parish was known as 'Congregation of Greater New York', one of the first Mar Thoma Congregation in USA , established on 1976.
His Grace, Late Rt. Rev .Dr. Alexander Mar Thoma Metropolitan renamed this Congregation as Ebenezer Mar Thoma Church and the worshipping location was Pelham Community Church, at Washington & High Brook Ave, Pelham, New York. There were seventy families regularly attended the worship service. Rev. George Varghese was our Vicar and Rt. Rev. Dr. Abraham Mar Paulose (Rev.Dr.K.U.Abraham) served as Asst.Vicar.
When we write the history of our church, we cannot ignore the period of 1996 – 2000, a new era of our North American Diocese and Ebenezer Mar Thoma church, the untold story of our sufferings and sacrifice. Even though we walked through the valley of the shadow of death, we were grateful to be the part of the history of Mar Thoma Sabha in North America. We were glad to have the historical judgment which enabled the Diocesan of North America to establish and expand their spiritual and social growth in North America.
We thank our late Metropolitan, His Grace Rt. Rev. Dr. Alexander Valiya Metropolitan, our first Diocesan Bishop, Rt. Rev. Dr. Zacharias Mar Theophilus Suffragan for their immense support and guidance
After 25 years, by the Grace of our Savior Jesus Christ, we have our own church and we have started service on our new parish on January 22nd 2012.
On March 31st 2012, His Grace Rt. Rev. Dr. Joseph Mar Thoma Metropolitan consecrated our church along with our Diocesan Bishop, Rt. Rev. Dr. Geevarghese Mar Theodosius Episcopa.
Former Vicars
Rev. Abraham Oommen
Rev. Benjamin George
Rev. Johnson C Jacob
Rev. Johnson Varghese
Rev. George Mathew
Rev. Dr. V. S. Varghese (Associate Vicar)
Rev. Thomas Easow
Rev. Thomas C Alexander
Rev. Dr. T. P. Abraham
Rev. Johnson Varghese
Rev. Dr. K. U. Abraham (Associate Vicar) (Rt. Rev. Dr. Abraham Mar Paulose)
Rev. G. Varghese