Our New Vicar and Family!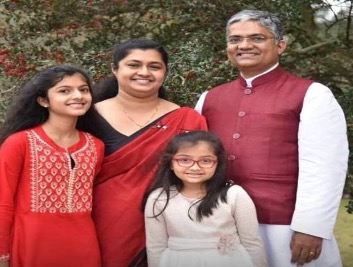 Our new Vicar, Rev. Aju Abraham will take charge of our Parish on May 1st, 2021 and will cover two weeks per month, giving services on 1st and 3rd Sundays of every month. Rev. Aju Abraham is also serving as the Diocesan and Bishop's Secretary. He is the member of St. Thomas Mar Thoma Church, Peechi, Thrissur.
After completing B.Sc Statistics from Calicut University and BD in Theology from Serampore University, he was ordained as a deacon of the Mar Thoma Church on July 17, 2007 and priest on July 31, 2007. During his 13 years of ministry, he has served in many parishes and mission fields in southern part of India. He was also involved in the Mission outreach programs, Youth and Students Ministry of the Church. He lives in the Sinai Mar Thoma Center, Merrick, New York. His interest includes reading, music, travel and playing Cricket.
Served in the following Parishes and organizations:
Bethel Mar Thoma Church, Thenhipalam, Malappuram 2007-2011
St. Pauls Mar Thoma Church, Calicut 2007-2009
Mampetta Mission, Calicut 2007-2009
Diocesan Youth Chaplain, Diocese of Kunnamkulam- Malabar 2009-2011
The Mar Thoma Church, Primrose Road, Bangalore 2011-2014
Mar Thoma Yuvajana Sakhyam Managing committee 2009-2013
The Mar Thoma Church, Salem 2014-2017
Salam Missionary 2014-2017
St. Pauls Mar Thoma Church, Sirsi 2017-2018
Sirsi Mission 2017-2018
Mar Thoma Church of Atlanta 2018-2020