The heavens are telling of the glory of God;
And their expanse is declaring the work of His hands.
-Psalms 19:1
Welcome to

Ebenezer

Mar Thoma

Church

Service every Sunday at 10 AM

Sunday School at 9:15 AM
Mar 25, 2023
Dearly beloved in Christ,
Please see attached for our 2023 Year Plan
Jun 6, 2022
Dearly beloved in Christ,
Please see attached for our 2022 Year Plan
May 1, 2022
Our new Vicar, Rev. George Abraham will take charge of our Parish on April 27th, 2022 and will cover two weeks per month, giving services on 1st and 3rd Sundays of every month. Rev. George Abraham is also serving as the Diocesan and Bishop's Secretary. Please click here for more information about Achen and Family!
Jul 26, 2021
Dearly beloved in Christ,
Please see attached for our 2021 Year Plan
May 1, 2021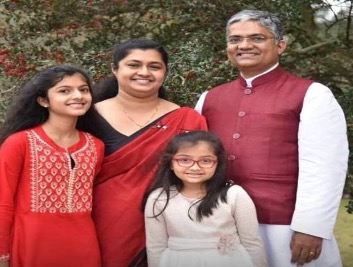 Our new Vicar, Rev. Aju Abraham will take charge of our Parish on May 1st, 2021 and will cover two weeks per month, giving services on 1st and 3rd Sundays of every month. Rev. Aju Abraham is also serving as the Diocesan and Bishop's Secretary. He is the member of St. Thomas Mar Thoma Church, Peechi, Thrissur.
After completing B.Sc Statistics from Calicut University and BD in Theology from Serampore University, he was ordained as a deacon of the Mar Thoma Church on July 17, 2007 and priest on July 31, 2007. During his 13 years of ministry, he has served in many parishes and mission fields in southern part of India. He was also involved in the Mission outreach programs, Youth and Students Ministry of the Church. He lives in the Sinai Mar Thoma Center, Merrick, New York. His interest includes reading, music, travel and playing Cricket.
Served in the following Parishes and organizations:
Bethel Mar Thoma Church, Thenhipalam, Malappuram 2007-2011
St. Pauls Mar Thoma Church, Calicut 2007-2009
Mampetta Mission, Calicut 2007-2009
Diocesan Youth Chaplain, Diocese of Kunnamkulam- Malabar 2009-2011
The Mar Thoma Church, Primrose Road, Bangalore 2011-2014
Mar Thoma Yuvajana Sakhyam Managing committee 2009-2013
The Mar Thoma Church, Salem 2014-2017
Salam Missionary 2014-2017
St. Pauls Mar Thoma Church, Sirsi 2017-2018
Sirsi Mission 2017-2018
Mar Thoma Church of Atlanta 2018-2020
May 1, 2021
Dearly beloved in Christ,
We deem it as a great privilege to serve you in the coming year as your vicar. Let us remember with thanks the service of all Achens who served this parish, especially the effective pastoral ministry of Rev. Biji Mathew Achen and Kochamma. I solicit your valuable support and prayer in our Ministry in Ebenezer Mar Thoma Church, New York.
This month's lectionary topic is prepared in connection with the home for the homeless project of our church, the Ascension of our Lord, and the Feast of Pentecost. The earliest narration of the life of the Early Christian community is found in the book of Acts of the Apostles. There it was portrayed that it was essentially a caring community (Acts.4:32-37). The early Christians shared whatever at their disposal, so that there were no needy persons among them. This arrangement was broken in the later life of the church. Zacchaeus who was part of the exploitative social order was brought back to the early Christian model of a caring community through Jesus Christ (Luke.19:1-9). When Jesus visited his house, he took revolutionary steps to mend the broken relationship with fellow humans by his decision to pay back whatever extorted through his profession. The real encounter with Jesus Christ definitely restores individuals to live for the Kingdom values taught by Christ. There should be attempts from our part to become a caring community as we follow Jesus Christ.
The Risen Christ appeared among groups and individuals for forty days convincing them that he has risen indeed and spoke about the Kingdom of God (Acts.1:3). He still appears through His Holy Spirit in our lives encouraging and strengthening us to continue our faith journey on this earth.
This month we also recollect the promise of Jesus Christ about the sending of the Holy Spirit (John.14:25-3; 16:5-15). The promise was fulfilled by outpouring the Holy Spirit on the Pentecost gathering found in Acts.2:1-13. The divided world was united by speaking in other tongues by the apostles and each one hearing in one's own language. The disunity that took place during the building of Tower of Babel (Genesis.11:1-9) was corrected by the outpouring of the Holy Spirit on believers on Pentecost Day by restoring the ability for communication. We are living in a divided world where we lost the ability of real communication. It exists between parents and children, among the family members, within the parish members, among the nations of the world. Only when the individuals and communities are willing to allow the Holy Spirit to take control of their lives, then only we could understand each other and to live in peace with other fellow beings.
We have been experiencing the everlasting protection of our Almighty God these days when the whole world is rocked by the alarming spread of COVID-19. Let us thank God for protecting us under His wings.
Along with the Psalmist let us praise God: "for He will deliver you from the snares of the fowler and from the deadly pestilence; He will cover you with His feathers and under His wings you will find refuge (Ps.91.2-4).
As we continue our faith journey, let us always be reminded of the fact that the risen Lord is a co-traveler with us as he once travelled with the two persons through the Emmaus road (Luke.24:11-33).
May God bless you all.
Ajuachen
May 1, 2021
Dearly Beloved in Christ,
Let us praise God for this spring season. Spring is an amazing season that reminds us of some important things for life. One thing we can see is the beauty of God's creation through the wonderful and vibrant colors of the flowers blooming and it brings us such joy to understand God's creation so detailed in such a way we can understand God's love for us to enjoy the beauty of this world that we live in. The spring season is also a reminder of the responsibility God gave us to take care of this beautiful world and the resources within. In the place that we live, we are to keep it in such a way that we can maintain the world well and work as the hands and feet of God through our concern for the world around us. Spring also teaches us about preparation and patience. It is the time where we will seed our garden and take care of the flowers and crops that we grow in patience and much detailed care. It calls for us to protect it from harm (such as pesty squirrels, although they look adorable at times). Our patience is also tested by the uncertainty of the results that may come, it can be discouraging, and it can be encouraging, but we must wait for it through the late summer to understand the result through the harvest. Life is like that, in whatever we do, spring is a lesson that life belongs to God, our talents and wisdom belong to God as well as the resources within. We should move towards all parts of life with patience, it is much difficult to do so, I know, but we should encourage ourselves and one another of being patient in God's time and not our time. God placed us in His time, and the plans He has for us should also remind us to wait for His timing.
College Ministry Bible Studies are going on and I encourage our youths to make use of this resource that is available to you. We are also planning a gender break Bible study and I ask our youths who want to participate in the gender break studies to give your names and email addresses to your respective youth secretaries of your parish.
We should remember India in our prayers as COVID cases are beyond human control. Let us pray for God's healing and safety for all people in India as well as the world at large.
Wishing everyone a blessed May and Spring season.
Much Love,
Jess M George Achen
Rev George Abraham
President & Vicar
P: 516-754-6110
Eapen Joseph
Vice President
P: 914-310-4892
Dr Susan Kurian
Secretary
P: 914-417-8503
Feby Varughese
Treasurer
P: 914-815-1555
Tibu C Tharakan
Accountant
P: 914-299-2147
CS Chacko
Malayalam Lay Ministrant Justin John
English Lay Ministrant Thomas K Mathew
Sabha Mandalam Member Jose Cherian
Diocesan (Assembly) Member Vipin Kovoor
Sunday School Representative Rahul Joseph
Youth Fellowship Representative
Jacob Mathew
Yuvajana Sakhyam Representative Annakutty Jacob
Sevika Sangham Representative John C Mathai
Edavaka Mission Representative Soji Samuel
Choir Representative
Edavaka Mission
The spiritual renewal in the Church, which was the offspring of reformation has created a yearning in believers to present the Gospel to others. It was realized that this could not be fully achieved by the services of a few full time evangelists. On the other hand every member of the Church should be a missionary filled with such joy and assurance of salvation as to be Christ's witness to those who come into contact with him, irrespective of one's profession in secular life.Believers interested in evangelistic and intercessory activities used to assemble periodically for prayer and fellowship. It was in the annual meeting of such a gathering in 1924, the present Mar Thoma Voluntary Evangelists' Association was formed. Bishop Abraham Mar Thoma was the ardent supporter of this movement.The objective of this association is that every member of the Church should be a witness to Jesus Christ, whatever his or her occupation may be. Those who volunteer to be members of the Association meet together in each parish at least once a week for fellowship, intercessory prayer, Bible study and sharing experiences.The branch of the Mar Thoma Voluntary Evangelists Association in the Parish is called "Edavaka Mission".
Sevika Sangham
The women in the Mar Thoma church also shared the spiritual power generated by the Reformation. The Mar Thoma Suvisesha Sevika Sangham the women's wing, was inaugurated during the Maramon Convention in the year 1919, under the leadership of Abraham Mar Thoma Suffragan Metropolitan, who gave the Sangham continued support and inspiration. Every women of the Mar Thoma Church above the age of 18 years is a member of the Sevika Sangham. The Sevika Sangham has branches in all parishes of the Mar Thoma Church both in India and abroad. The Sevika Sangham at Ebenezer Mar Thoma Church is an extremely active and spirited group who play an extremely active role in the development and growth of our church.
Sunday School
In the Mar Thoma Church, Sunday Schools play a very significant role in the spiritual renewal and growth of young generation. The formal inauguration of the Sunday School Samajam took place at Maramon Convention in 1905. 'Come to Jesus and bring every child to Jesus' is the motto of our Sunday school. Since then the Sunday School organization has grown and changed but our motto still remains the same.Ebenezer Mar Thoma Church Sunday School is held every Sunday (with some exception) between September and June at 11:00am. It is comprised of an extremely dedicated team of teachers and an eager group of students who have led to its continued success year after year. Our students actively participate in Diocesan-led initiatives such as the National Diocesan Exam and VBS. In addition to bible study, our students also learn about church history and the growth of the Mar Thoma Church.
Youth Fellowship and Yuvagena Sakhyam
The Mar Thoma Yuvajana Sakhyam was organized with a view that all the young people in the Church should accept Jesus Christ as their Savior and Lord, and bear witness to His saving power. It was organized in 1933 by a resolution of the Sabha Prathinidhi Mandalam. Ebenezer Mar Thoma Church continues to honor this resolution with not only an active and thriving Yuvajana Sakhyam but also an extremely devoted Youth Fellowship group. Both groups work hand in hand to develop our youth as responsible young men and women who can face the challenges of life while upholding the faith and practices of the Mar Thoma Church and Christian values.
Parish Info
Address: 406 King St Port Chester, NY 10573
Trustee Phone: (914) 330-7254
Accountant Phone: (914) 494-7336
Email: newyorkebenezermtc@gmail.com
Sunday Worship: 10:00 AM
Sunday School: 09:15 AM
Parish History
Worship History of Early Marthomites (New York, New Jersey, and Boston):
In January 1969, the first Mar Thoma Worship was conducted in Boston, by Rev. Cherian Thomas and in New York in February 1971 by Rev. Thomas Varghese. The first Congregation was formed in Queens, NY in 1972 and a Mar Thoma-CSI Congregation was formed in New York City in September 1973. With an upsurge in migration of Marthomites to the United States, the need for regular Worship became a necessity. A request was sent to the Metropolitan by a group of Marthomites to form a Mar Thoma Congregation in the New York area. The request was published in Sabha Tharaka (1972) as well. At that point, the Mar Thoma Sabha leaders were not in favor of establishing Mar Thoma Parishes in North America (USA), and directed the people to obtain membership in the local Episcopal Churches via Kalpana dated January 8th 1973, from the Most Rev. Dr. Juhanon Mar Thoma Metropolitan.
In 1976, the first Mar Thoma Congregation in Queens, NY received approval and was named as "The Mar Thoma Congregation of Greater New York". Rev. K.S. Mathew was appointed as the first Vicar followed by Rev. Thomas George (1977-1979). Rev. Benjamin was appointed as the first full time Vicar in 1979 covering two Sundays for the Mar Thoma Congregation of Greater New York; one Sunday for the Mar Thoma Congregation in Philadelphia and one for the Mar Thoma – CSI Congregation in New York City.
In 1980, our late Metropolitan, The most Rev. Dr. Alexander Mar Thoma divided the Mar Thoma Church of Greater New York into four parishes:
St. Thomas MTC, NY
New Jersey MTC
Staten Island MTC
Epiphany MTC
Separate services were started in these parishes by the year 1981. The members, who did not join these Parishes, remained as "The Mar Thoma Congregation of Greater New York" and worshiped as an independent group with an amended Certificate of in-corporation in December 21st, 1981.
After seven years of separation from the Mar Thoma Sabha, the members of the above Congregation agreed to accept the faith and practices of Malankara Mar Thoma Sabha. In 1987 the Congregation received approval from Mar Thoma Saba Synod. His Grace, Late Rt. Rev. Dr. Alexander Mar Thoma Metropolitan named the congregation as "Ebenezer Mar Thoma Church". At that time, most of the Mar Thoma parishes were in various boroughs of New York; therefore, the Metropolitan permitted the members to establish a Mar Thoma Parish in Westchester County, New York.
On March 31st 2012, His Grace Rt. Rev. Dr. Joseph Mar Thoma Metropolitan consecrated our church along with our Diocesan Bishop, Rt. Rev. Dr. Geevarghese Mar Theodosius Episcopa.
Establishment of Ebenezer Mar Thoma Church:
After approval and official formation of Ebenezer MTC in 1987, the community started its Worship at the "United Church of Christ" located at 448 Washington Ave, Pelham, New York. Seventy families regularly attended the worship services under the leadership of Rev. Philip Varghese (Immigrant) as Vicar, and Rev. K.U. Abraham, Doctoral Candidate from Boston University (at present, Rt. Rev. Dr. Abraham Mar Paulose) as Associate Vicar. In those years, we followed the "New York State Article of Incorporation and Article 10 Religious Law". In 1988, we started with a fulltime resident Bishop, Late Rt. Rev, Dr. Zacharias Mar Theophilus Suffragan Metropolitan. The first Diocesan Centre was at 744 Newton Road, Richboro, Pennsylvania which was later moved to current Sinai Mar Thoma Centre, located at 2320 Merrick Ave, Merrick, NY 11566.
When we write the history of our church, we cannot ignore the period of 1996 – 2000, a new era of our North American Diocese and Ebenezer Mar Thoma church, the untold story of our sufferings and sacrifice. Even through the trials and tribulations, we were grateful to be the part of the history of Mar Thoma Sabha in North America. We were glad to have the historical judgment which enabled the Diocesan of North America to establish and expand their spiritual and social growth in North America.
From 1987 until January 2012 we conducted our worship services in different rented spaces:
1987 - 1996 – Pelham Community Church "United Church of Christ" located at 448 Washington Ave, Pelham, New York.
1996 - 1999 – Trinity Lutheran Church, 30 Lockwood, New Rochelle
1999 - 2008 – Korean Presbyterian Church of Westchester, 50 Pintard Ave, New Rochelle, NY
2008 - 2012 – Trinity Episcopal Church, 1415 Pelhamdale Ave, Pelham, NY 10803
Present Parish: After 25 years, by the Grace and Mercy of our Lord and Savior Jesus Christ, we purchased a church on January 10th, 2012 at 406 King Street, Port Chester, NY-10573. The Diocesan Bishop, Rt. Rev. Dr. Gee Varghese Mar Theodosius conducted the first divine service on Sunday, January 22, 2012. In addition, our Diocesan Bishop gave us temporary permission to use the present place of worship for worship services until the formal consecration of the church. On 31st March 2012, our late Metropolitan, the Most Rev. Dr. Joseph Mar Thoma consecrated Ebenezer Mar Thoma Church, with Diocesan Episcopa, The Rt. Rev. Dr. Gee Varghese Mar Theodosius. Rev. Benjamin George was the Vicar during purchase, and consecration of our church.
We received valuable services from the following Vicars during this period:
Former Vicars (Most Recent First)
Rev. Biji Mathew
Rev. Sony Philip
Rev. Abraham Oommen
Rev. Benjamin George
Rev. Johnson C Jacob
Rev. Johnson Varghese
Rev. George Mathew
Rev. Dr. V. S. Varghese (Associate Vicar)
Rev. Thomas Easow
Rev. Thomas C Alexander
Rev. Dr. T. P. Abraham
Rev. Johnson Varghese
Rev. Dr. K. U. Abraham (Associate Vicar) (Rt. Rev. Dr. Abraham Mar Paulose)
Rev. G. Varghese
1987 -2021, we shared Vicars from our sister Parishes; St. Thomas MTC (1989 – 1994), St. Johns Mar Thoma Church (1994-2000), St. Andrews Mar Thoma Church (2003-2017), Jerusalem MTC/Rochester Prayer Group (2017-2021) as well as received services from immigrant Priests (1987-1989, 2000-2003) and Priests who were Doctoral Candidates from Boston and Princeton Universities (1987-1992, 1999-2003).